British-Dragon.org has introduced bitcoins as a payment method in the last year. It is becoming obvious that they much prefer this method over Internation Money Transfers, and thus it is time for us old school people to update. I will show you exactly how to do it, but first let's start with the benefits of learning to use bitcoins:
1. 10% cashback – British-Dragon.org offers a 10% cashback on all orders paid for with Bitcoin, that alone should be enough to convert you
2. It's the future – Everyone dealing with steroids is using bitcoins now, it is secure for them to trade and about as safe for you as Internation Money Transfer was anyway
3. It's an online wallet – You can keep funds in your account for as long as you wish. No more trips to the Internation Money Transfer office for every order, and if you change your mind, you can cash out any left over funds as well. (Please note: currency fluctuates, so the amount you have may change with market forces)
What Is It
This is not necessary to know in order to use, but some people appreciate it. Bitcoins are a crypto-currency, basically it is a digital currency where instead of notes and coins you own digital bitcoins instead. Bitcoins have been around for a while now and its popularity continues to grow. The technical aspects will give you a head ache, but every bitcoin transaction is anonymously recorded and monitored by a collection of people to ensure the security of the currency. The main benefit of this is that funds can be transferred peer-to-peer so no bank or government institution is involved in the transaction, keeping your identity safe and the merchant protected.
How to use it
1. British-Dragon.org (or any bitcoin merchant)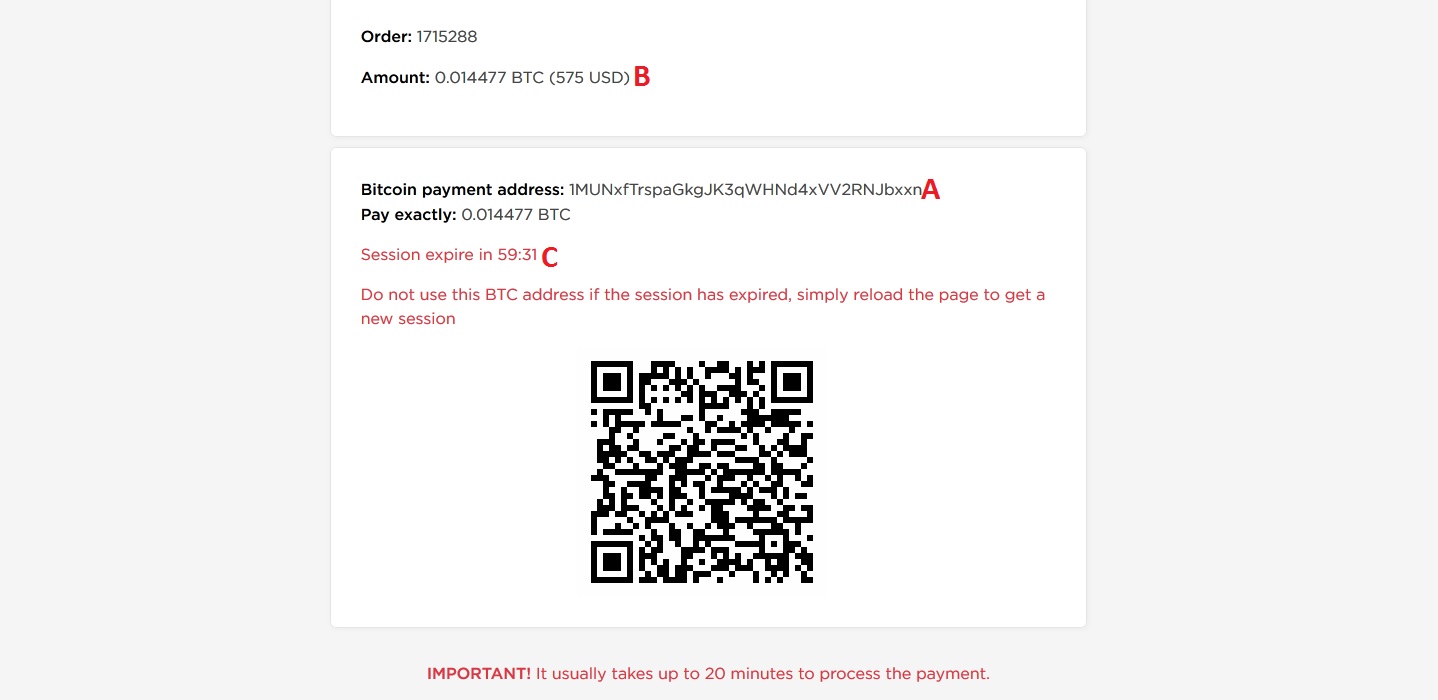 You will notice you get a wallet address (A) and a bitcoin amount (B) when you checkout. These are needed to make a payment. Also, you will see that there is a time limit on payment (C) so you need to have bitcoins in your wallet before checking out in order to make payment. For this step though just use the bitcoin amount as a rough guide for later.
2. Set up a wallet
To make a payment, you will need a wallet to send your bitcoins from to the merchant. I recommend localbitcoins.com because they are safe, but also you can convert unused bitcoins back into cash. This step is fairly straight forward, simply sign up with your correct details and make an account.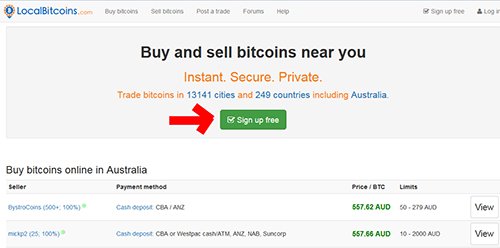 I recommend you activate authenticator to your account, this protects it from hackers and is easier then you think. Just need to add an App to your phone and your account is military level secure.

Also use your real details, once you transfer bitcoins to another account, no one can trace where they were sent from so you don't need to protect your identity, having a false identity is more likely cause issues.
3. Purchase Bitcoins
You can purchase coins through localbitcoins.com, but that is a whole different post. I recommend a bitcoin service offered exclusively through the forum. You will need to be a member of the forum, but you should be that already if you want the good info I can't publish here. Sign up for the forum to get the details by clicking here.
Please note this is a legitimate bitcoin trader, at no time should you mention how you found them or what the coins are used for, otherwise they will likely rescind our membership.
Go to the site, and you will see this page: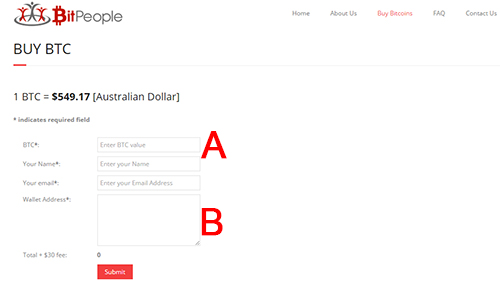 You will notice you need to enter in a bitcoin amount (A) and a wallet address (B), use the bitcoin amount provided by British-Dragon.org (or the merchant). Remember, it may take a day or 2 for you to receive the bitcoins, so purchase a little more than required for your order to cover any fluctuations in the bitcoin value. Any leftover bitcoins can be sold or used for future orders anyway.
Your wallet address can be found in your localbitcoins account page. Click on the Bitcoin symbol on the top right (A) and then copy and paste the address (B) like in the image below.

Once done, simply click submit. You will be taken to this page (details blurred out for privacy):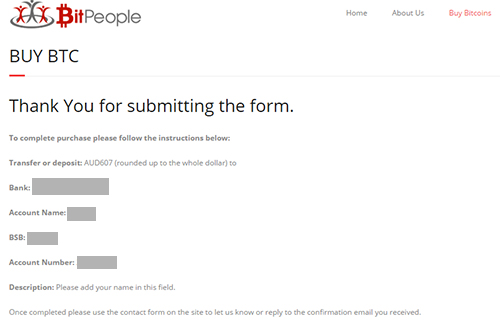 You will be given the amount required for the bitcoins, and where to pay them. You have 2 options, you can make a direct deposit at a commonwealth bank branch or simply just net transfer to the account provided, obviously this will take a day to clear normally. Once the payment clears they will transfer the bitcoins into your nominated account, and you are ready to pay for the order.
4. Pay Order
You will need to check out again with your order as the previous one would of expired. Hopefully the bitcoin amount hasn't changed too much, but if you purchased a little extra, you shouldn't have any problems anyway.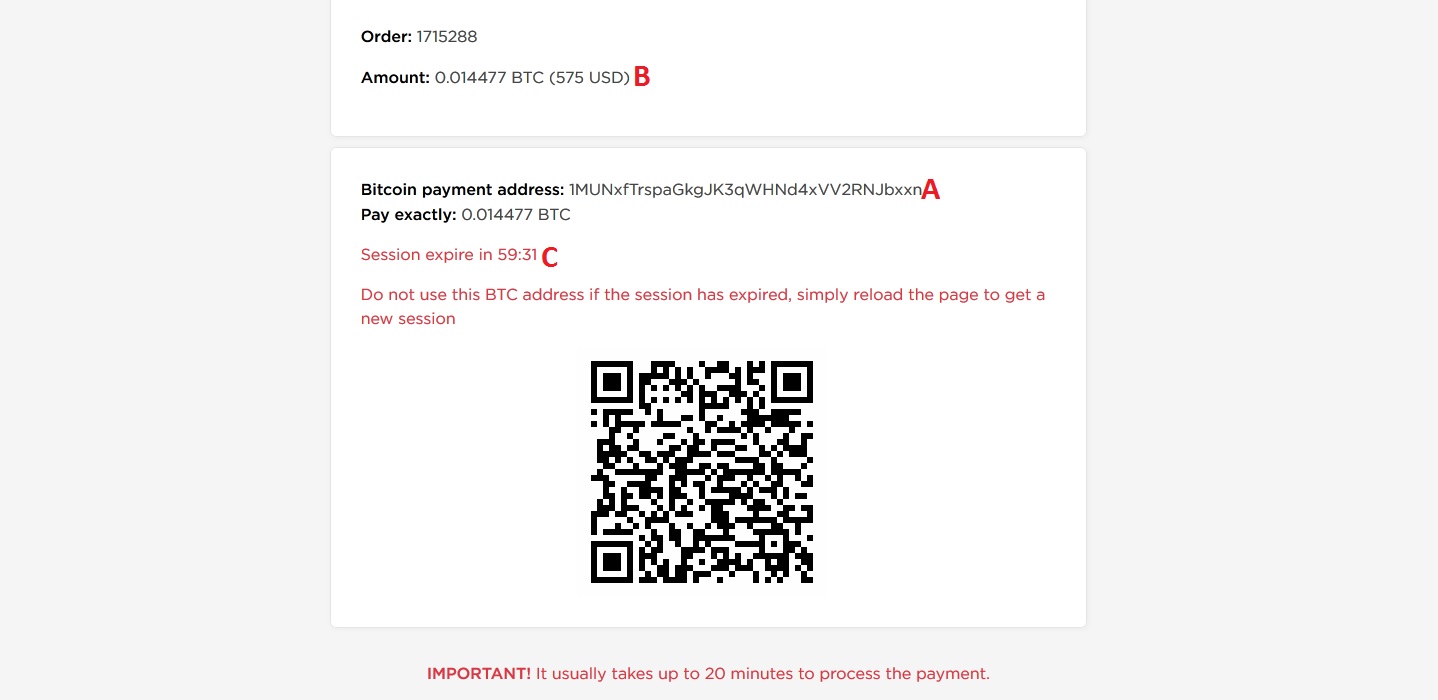 Using the details again, log into your localbitcoin account and click on your account page (A).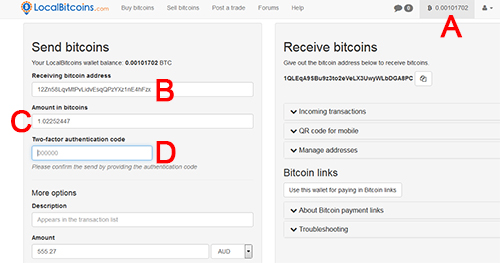 Enter in the payment address (B), the bitcoin amount (C) and the Authenticator code (D) and submit. In about 5 or 10 minutes you will receive an email from British-Dragon.org saying that your order has been paid and it's done.
Hopefully you found this guide helpful, it really is quite simple after you do it one time, so don't let all the steps stop you, follow them one at a time, and you will find purchasing gear online a whole lot easier.